It's hard to get a more traditional Autumn experience than visiting a pumpkin patch and a corn maze. It's quintessential Fall and we love it! First, let's talk pumpkins. The way the world is these days, it's pretty rare for most of us to get out into a garden or a field and pick our produce. In Summer we have the U-pick berry season, which is admittedly a little more satisfying to be able to snack on as you pick. Now, we have these giant hard shell orange squashes that you kind of have to work way harder to enjoy, but for some reason, we are all still obsessed with! The things you can do with pumpkin are endless! Pumpkin pies, pumpkin pies, oh, and pumpkin pies...
Ok, but seriously from pies to savory soups to activities for the kids, you can get a lot out of a good pumpkin.
But this isn't necessarily about what you take home from a good ol pumpkin patch; it's more about the experience while you're there. It is such a great family experience, especially if you have young children. Many parents have a difficult time finding things to do that engage the entire family, or are wholesome and team-building activities. But a day on the farm is fun for everyone. From the little bumbling toddlers trying to pick up pumpkins bigger than they are to the pre-teens who want a place to go with their friends: a day on the farm is excellent for everyone. I don't care who you are; everyone loves getting lost in a corn maze!
We took some time away from the city and headed out to Carpinito Bros Farm for a much-needed break on this beautiful Autumn day. We had such a blast! Pick your own pumpkins and squash, funny farm animals (some cuddly, some... not so much), a corn maze, cow ropin', rubber duck races and a corn pit. Wait... a corn pit you might ask? We know what you're thinking: "Please tell me that is what I think it is."
And it is: literally a swimming pool of corn. You straight-up swim in corn kernels. Everyone should experience it at least once.
Now, there are a lot of farms to visit this Fall depending where you live in Washington, but we chose Carpinito Bros. for a few reasons. Most importantly, they have been providing farm to table experiences for over 50 years! That's important to our family at Maple + Main. They also put a lot of thought into their activities, including changing their detailed maze designs every year to always keep us guessing. Plus, they have multiple farm fields throughout Kent and amazing farm stand and nursery. We hope you enjoy the video and can make it out to Carpinito Bros Farm, but if you live out of the area, we've made you a list of our favorite farms with pumpkin patches and corn mazes outside of Seattle in Snohomish, King, and Pierce Counties. Get out there this month and have fun!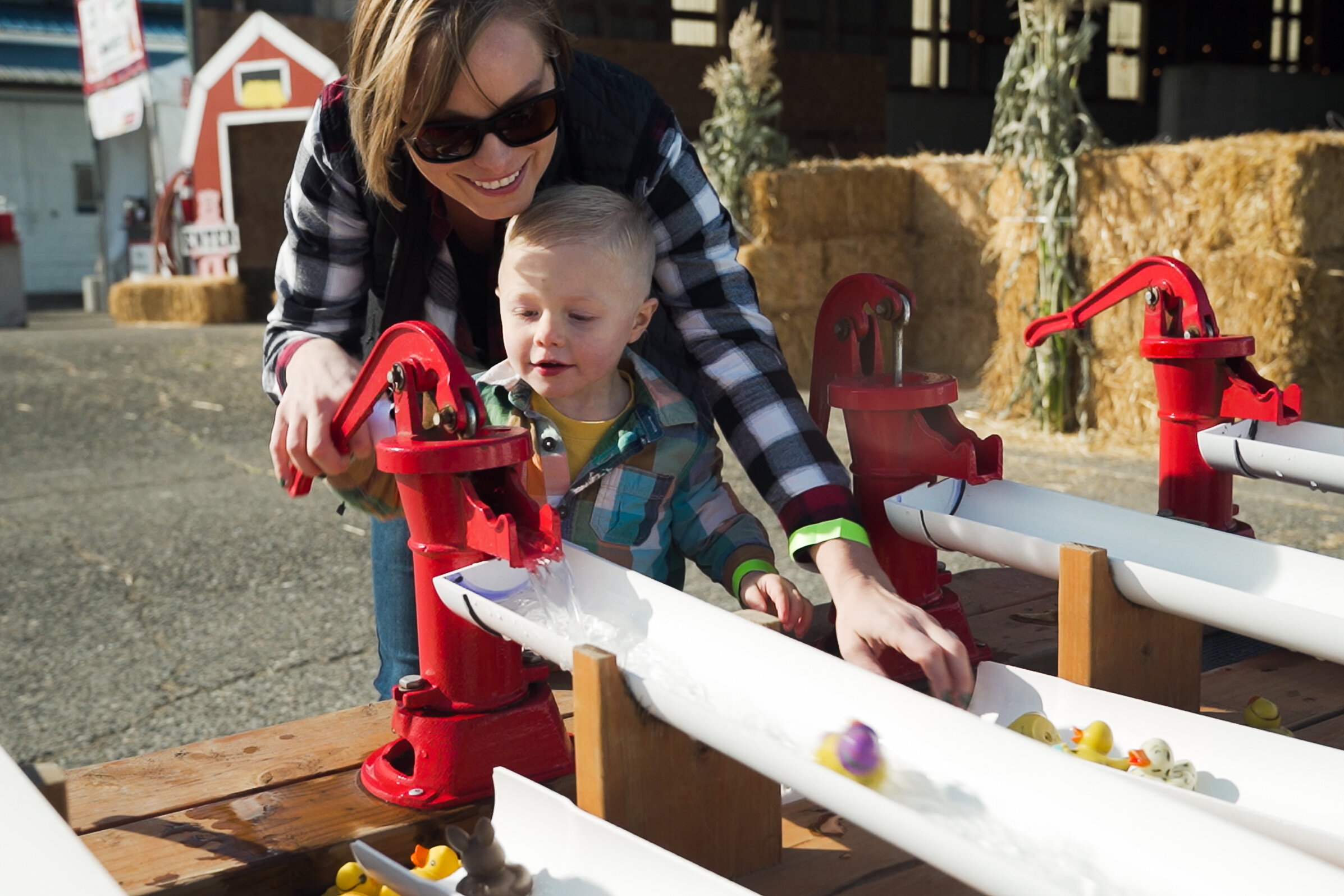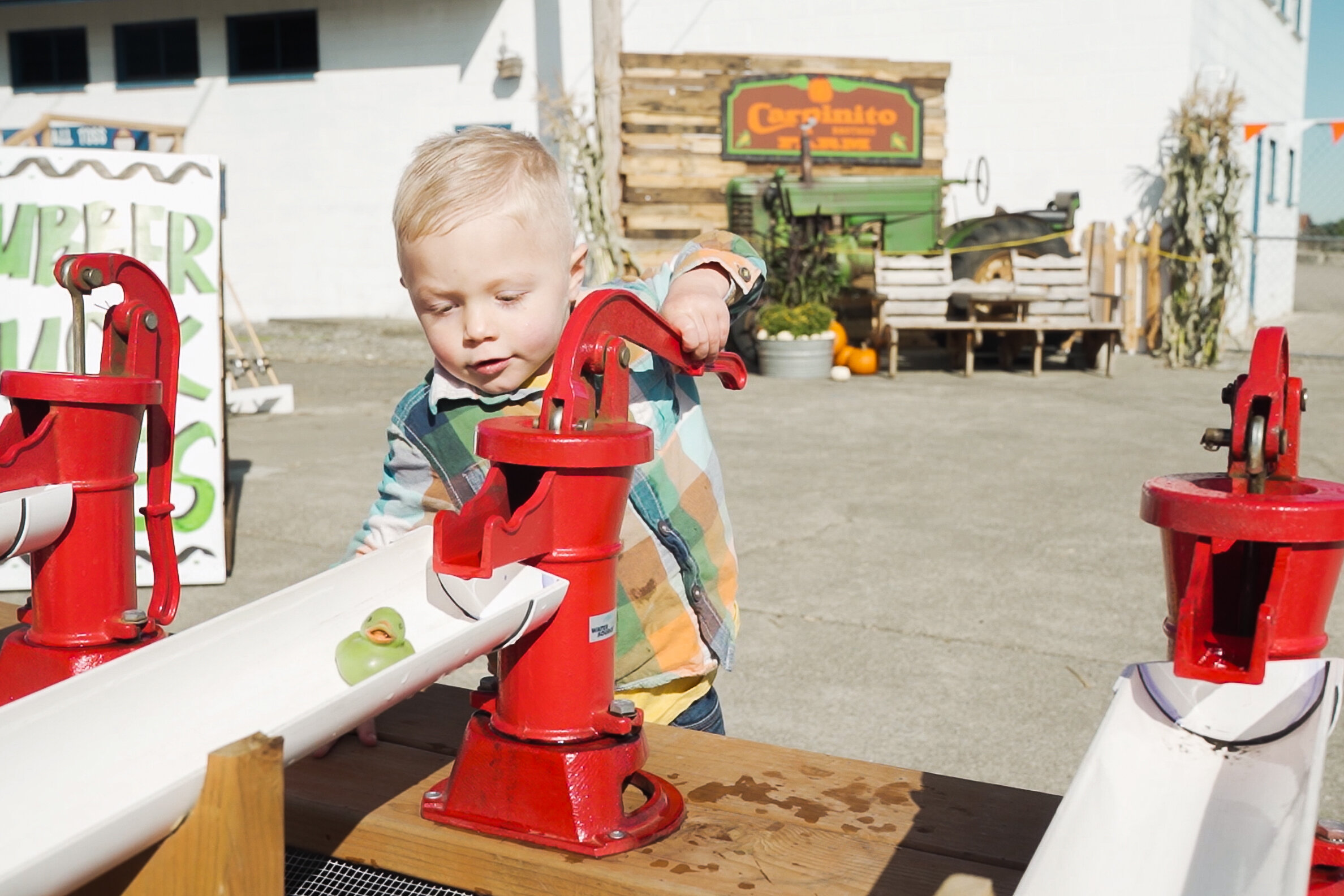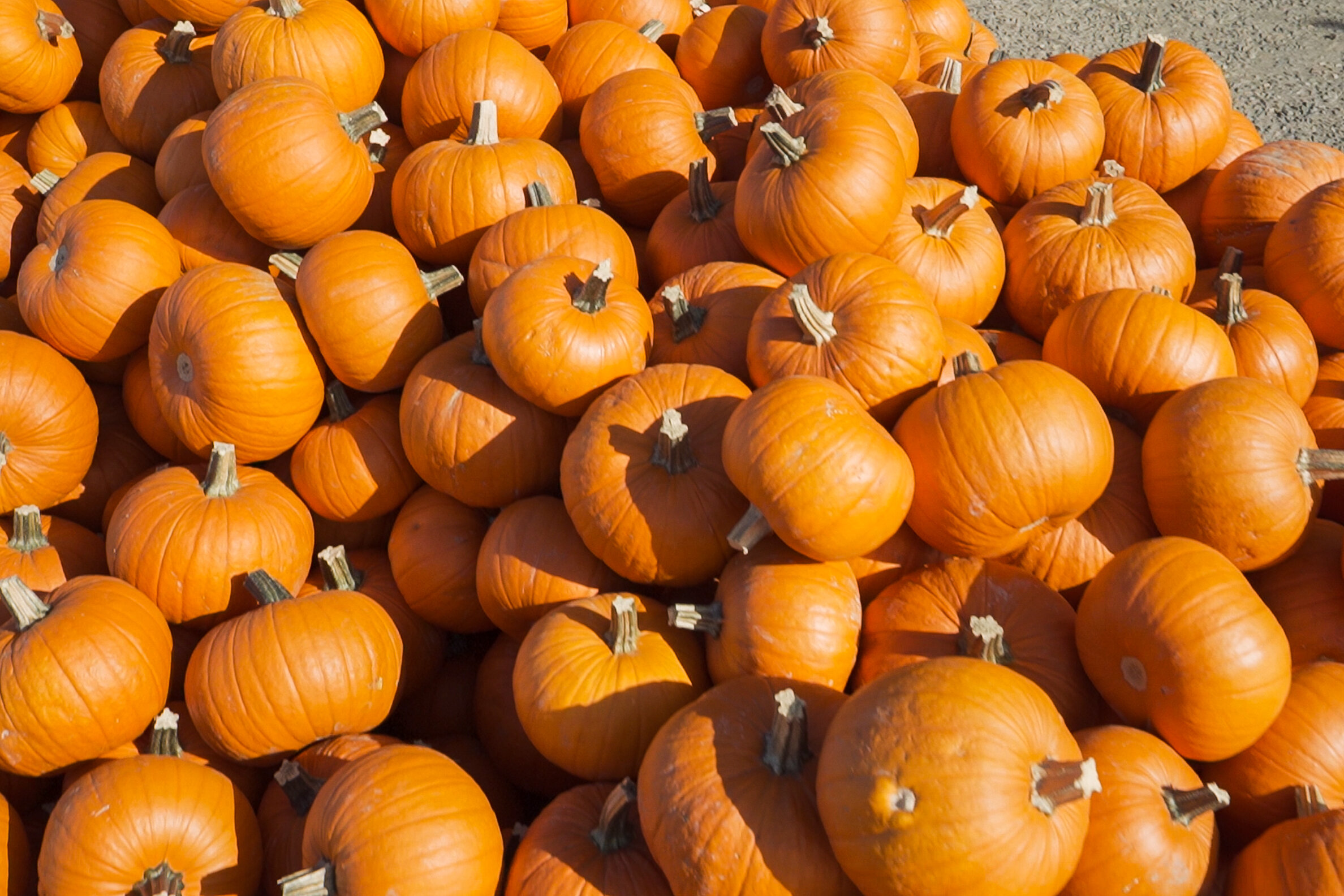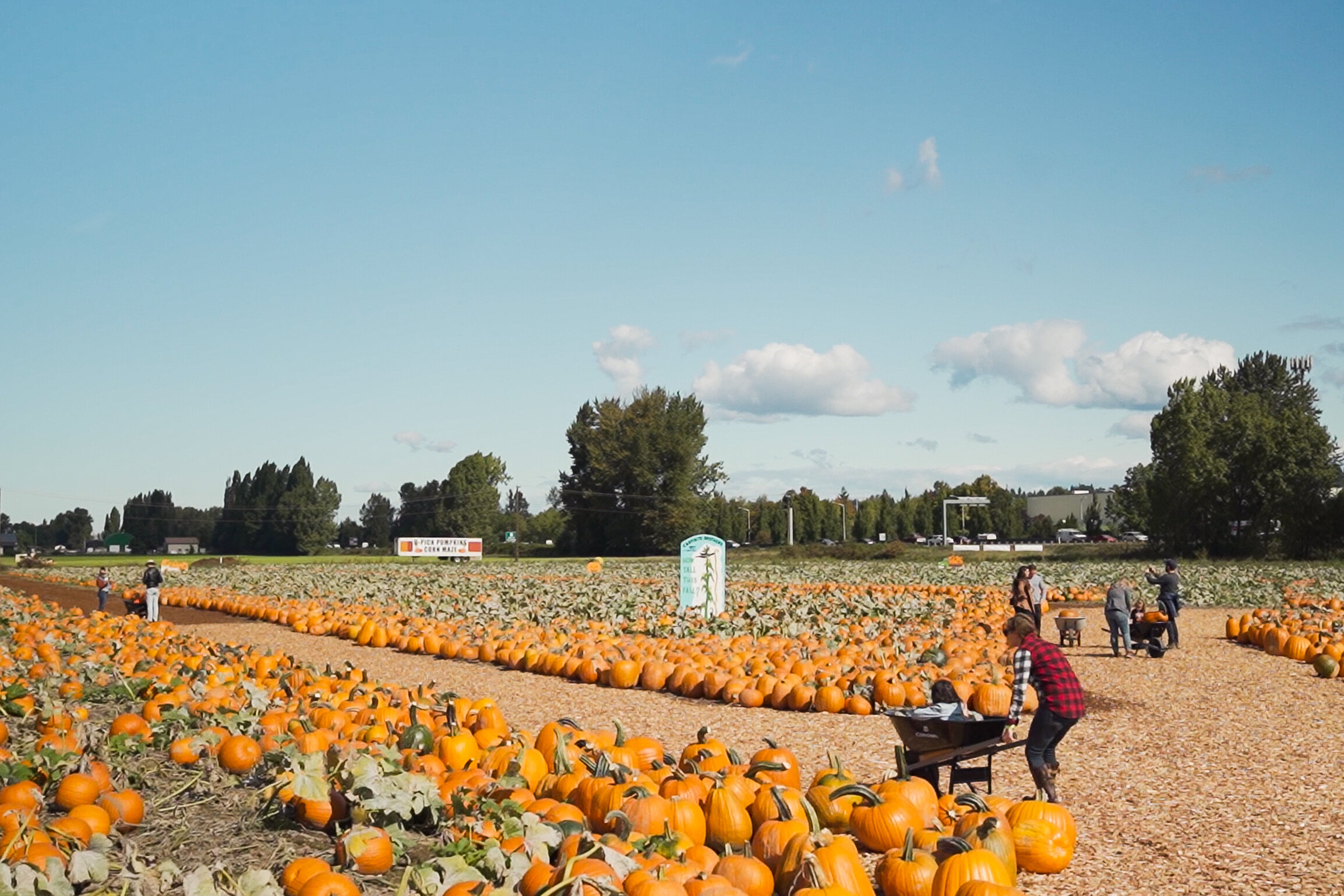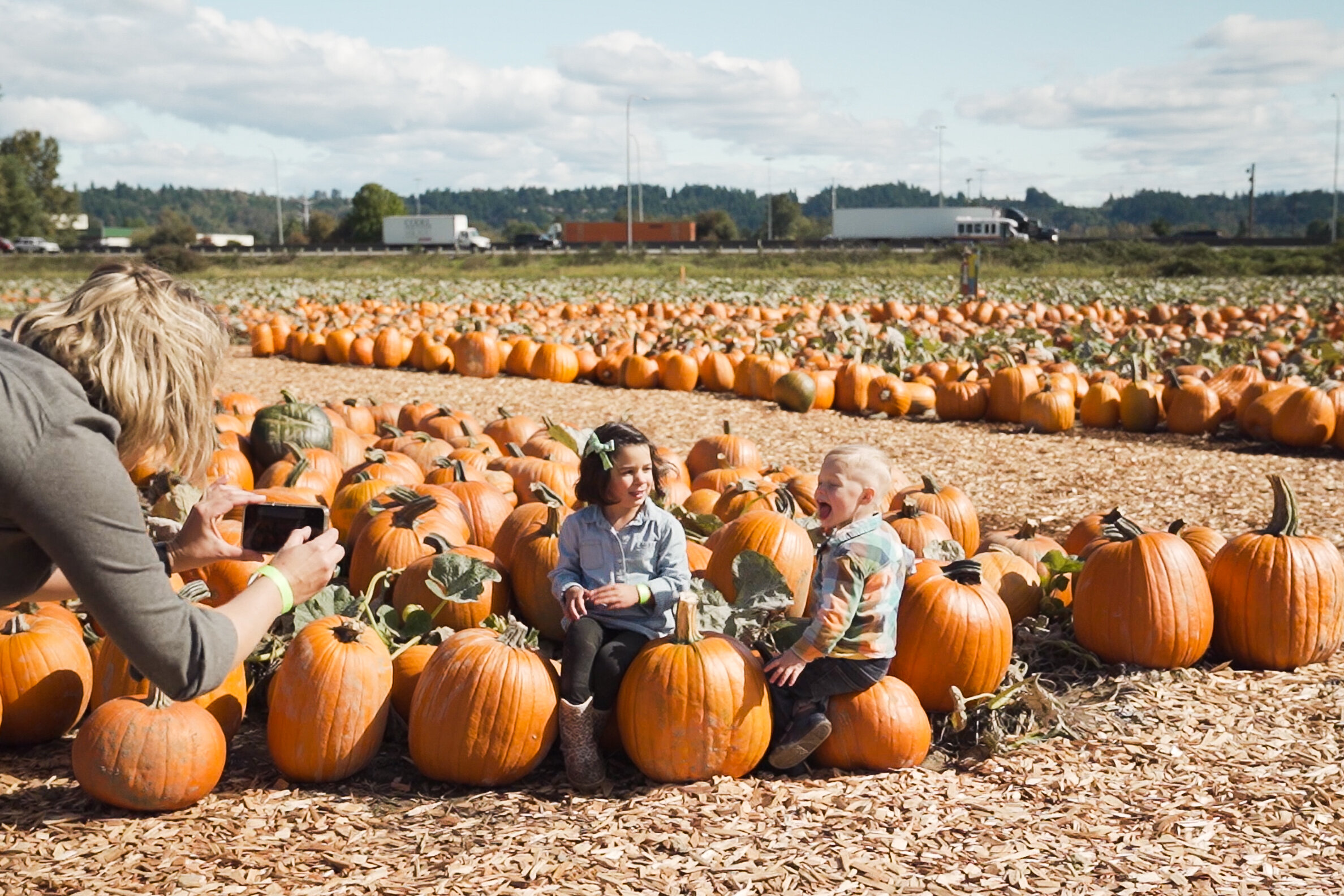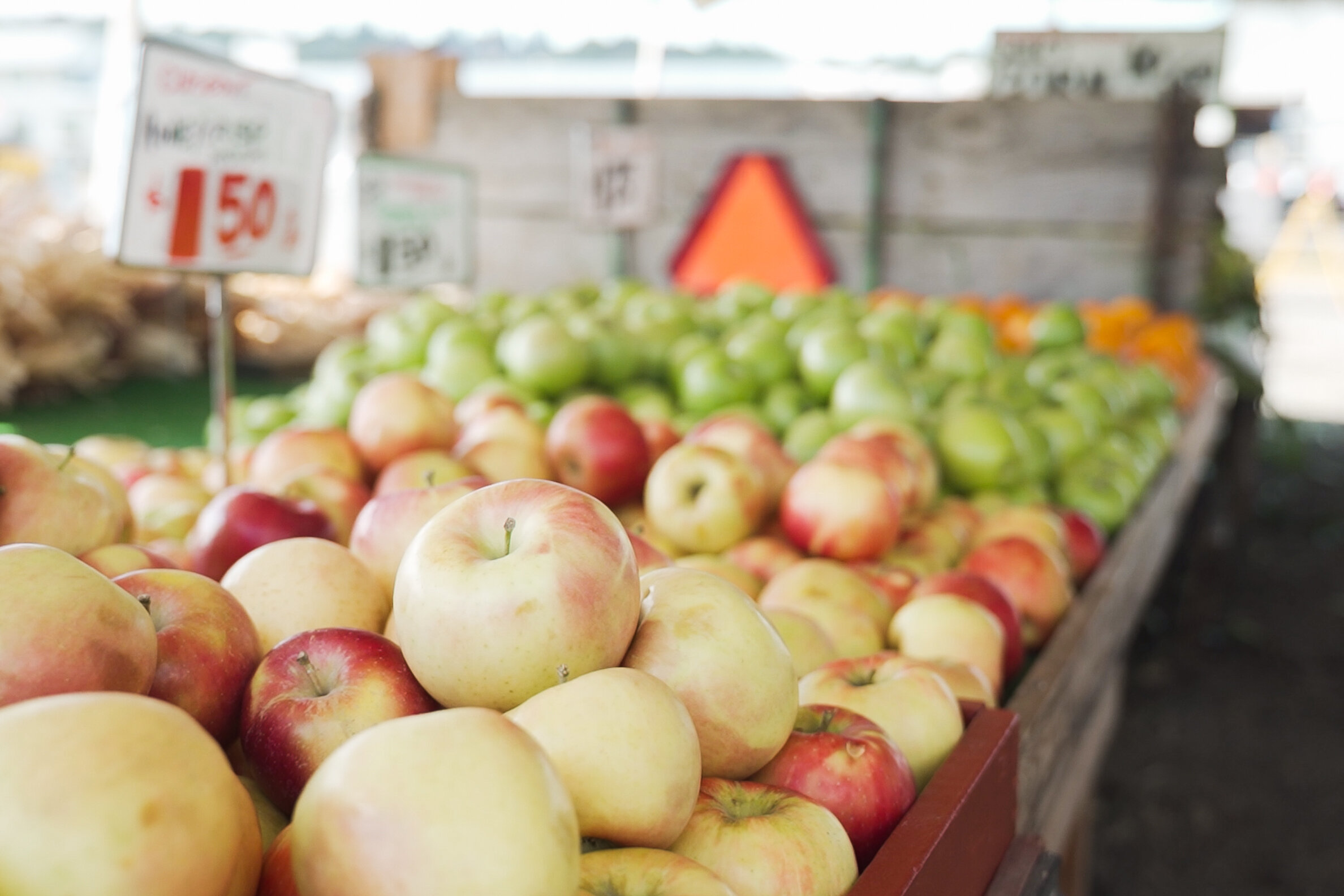 Snohomish
Bob's Corn Maze & Pumpkin Patch
Bob's plants over 60 varieties of pumpkins, so whatever you are searching for--gigantic orange pumpkins, skinny ones, tiny ones, perfectly round ones-- you're sure to find it. Who knew pumpkins were basically as diverse as humans?
They also have a country store in what used to be a calf barn from the late 1800s where they sell non-GMO produce, apples, cider, honey as well as from scratch farm-made pantry items like apple butter BBQ sauce and blackberry butter.
The corn maze at Bob's is over 10 acres. According to them, night maze visits are even more exciting because you have to find your way with just a flashlight. But don't worry--this is not a scare maze, just good old fashioned country fun. Last but not least, they have firepits you can reserve for all those camp vibes except even better since they provide the firewood, tiki torches, and maintain the fire for you, so all you have to do is watch your marshmallow while it toasts to make sure it doesn't burn.
The Farm at Swans Trail
Swan's trail has a pumpkin patch spanning 55 acres as well as a U-pick apple orchard! The apple orchard has over an acre of Jonagold and Honeycrisp (the best kind!) apples where you are free to meander and even sample the apples as you pick. The Corn maze at Swan's trail has 4.5 miles of path and is actually a giant map of Washington State! The maze even shows state roads, towns, and landmarks, each labeled with historical facts so you can learn a little something, too.
There's also a pig show, a petting farm, wagon rides, and live duck races, in case you still have energy after all that!
Craven Farm
With no admission fee to the farm, you only pay for the activities you choose to do. Over 30 varieties of pumpkins on a 20-acre patch! This place is perfect for the kiddos because they don't do scary or haunted theme activities. They have an impressive play area with a pirate ship, canoe, and tractor. Not to mention a human foosball field? You gotta see it to believe it. Their mazes have characters you and the family can interact with throughout, which is a really lovely touch. Just want to relax? Rent a fire pit and watch the kids play as you chill out in this fantastic early Fall weather.
King County
Remlinger Farms
This farm features over 25 rides and attractions that includes a roller coaster, a climbing wall and even flying pumpkins! Enjoy a variety of foods they make fresh including their home-made mini pumpkin doughnuts. Don't fill up too much though! Make sure you have the energy for the 28' tall giant slide and the two blow-up bouncers. From live theater to vintage steam train rides, everyone in the family is in for a great time.

Thomasson Family Farms
Their corn maze here is The great Pacific Northwest theme--complete with bigfoot, the space needle, Mt Rainier, trees and even salmon swimming. How creative is that?
The 'Kids Korral' offers activities that have us wishing we were young again: a Bubble Table, Duck Races, Squirty Guierty (learn how to milk a cow!), cattle roping, red-necked sandbox, slides, tractors and tires to climb on, Jr. zip lines and a chalkboard house to name a few things!

Fall City Farms
This is a small and charming farm that allows your family a glimpse at what really goes on at a real working farm. You can pick your pumpkin while you enjoy fresh mini doughnuts and a hot apple cider, take a wagon ride tour of the farm, or meet all the animals!
Pierce County
Double R Farms
During the month of October, Double R features a 5-acre corn maze and the largest selection of pumpkins in the valley. Feel like trying your hand at pumpkin slingshots? Here's your chance. There are free tractor-pulled hayrides on the weekends, an 80-year-old bar, and live animals for the kids to see.
Spooner Farms
You'll always be welcomed with a smile at Spooner Farms. That warm feeling will help power you through the over 3 miles of "Welcome to the Jungle" themed corn maze paths! They offer informative local farming tips at their Farm Education Area as well as tractor-pulled tours around the farm and to the pumpkin patch in case you're too tuckered out after the maze.
Picha Farms
With live bluegrass music setting them apart from the rest, Picha farm is a super fun farm to visit. Their corn maze is an impressive 5 acres and includes trivia questions hidden throughout the maze! Interested in 15 pounds of free pumpkins? All you have to do is put your skills to the test and win the slingshot contest. Only the best in Puyallup will take home the prize so come prepared! Finish the perfect day off indulging in farm classics like hot cider, kettle corn, and caramel apples as you enjoy the afternoon hayride.
Wish you lived closer to the pumpkins?
Let's talk about your realty dreams.